Iron Skull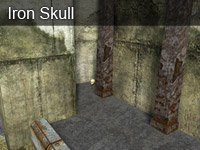 Skull Effect:
On Solo, if you die you have to restart from the beginning of the level. On Co-op, if one player dies all players have to restart from the last checkpoint.

Campaign Scoring Multiplier: 3x
Skull Location:
The Iron Skull is located near the end of the first level, Sierra 117.
It is located on the ledge of the building behind the one where Sgt.Johnson is being held captive.
You can get on to the ledge from the far right side of the building, where the ledge ends and meets the water, from here you can easily get on to the ledge. Once on the ledge walk to the far left end of the ledge and you will find the Skull concealed in the corner.